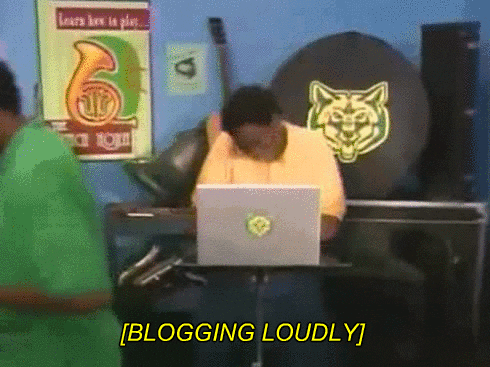 via GIPHY
It's been three months since I've been the Blog Editor at PDS and living the #bloglife. Last month I did a review of how the first three months have gone so here's what we found.
Back to basics
I wrote about our blogging resolutions back in January and we've been working hard to build a blogging culture. Some things are working well but there's still lots to do.
We've written a blogging strategy which shows what the blog is for and why we blog. We've got four themes that we talk about on the blog or 'content pillars' as we call them:
● being bicameral/collaborative with other teams across Parliament
● promoting diversity
● being data-driven or driven by user need
● being open
What's working
via GIPHY
There's a few things that are making the blog werk.
We published a couple of blog posts that show the human side to PDS and they've done amazingly well. The first one was from Nik Spicer, who's a Product Lead. She wrote about flexible working at Parliament. She blogged about how technology lets her do her job no matter where she is and she can still be home in time to be a Playdoh Lead to her kids.
As part of LGBT History Month, Tori Baker, Director of Transformation, blogged about the importance of openness and transparency. Another post that resonated with our readers. Both of these posts showed that when you write as a human and not an organisation, magic happens. People can relate to others when they're open about their experiences.
The most popular post so far though has been about the new website that PDS is building. This is one of the biggest projects that PDS is working on and is obviously interesting to a lot of people, inside and outside of Parliament. We need to do more posts like this where we talk about big pieces of work and the work that goes on behind the scenes.
We're also starting to build a blogging culture. Instead of doing a load of work and blogging when a project's ended, people are thinking differently and blogging throughout a project.
The Content Team is also working hard to promote plain English and help our colleagues find their blogging voice.
What we can do better
We want the blog to get better at showing the work that everyone does at PDS, not just some teams. We also want to encourage those that have done the work to blog, not the most senior person in the team.
We'll shortly be launching new PDS social media channels and we'll be promoting blog posts online. We want to use these channels to do more listening and find out what people want to hear from us.
We also need to get better at planning and talking about other interesting things that happens in Parliament, not just the day to day work. We wrote about 'breaking the bro code' on International Women's Day and what we're doing to help more women to apply for jobs in tech. We should be doing more posts like this that show how we're making PDS a great place to work.
Let us know what you think about the blog in the comments below.